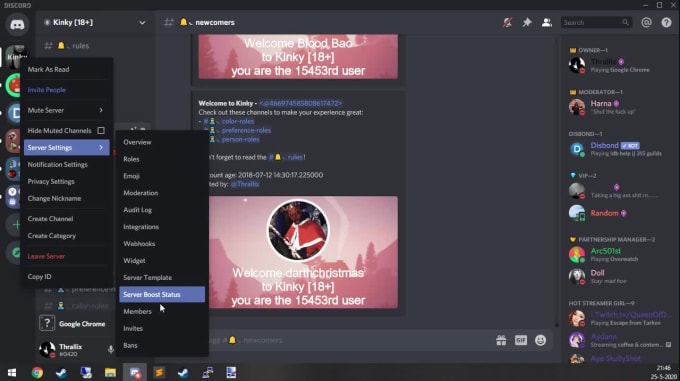 Enhance Your Online Presence with a DIY Discord Server
Discord has become the go-to communication service for many gamers and aspiring entrepreneurs. Whether you are starting your own community, or looking for a way to make a group gaming experience more engaging, investing some time and energy into creating your own custom Discord server can easily take your online experience to the next level.
Creating Your Custom Server on Discord
In order to make your own custom server, a few basic steps need to be taken. To begin, you will need to sign up for an account. This is incredibly easy and you can do it via your desktop, laptop, or mobile device. The next step is to open up the Discord app that you downloaded. This is necessary in order to set up your custom Discord server. After opening the Discord app, simply click on the "Create a Server" button and fill out the necessary information.
Filling Out Your Core Server Details
When creating your custom server, the first step is to fill out the basic details of your server. This includes giving your server a name, uploading an image or logo, and choosing the region for your server. You can also choose whether or not this server is visible to everyone, or just those who have been invited. Once those details are taken care of, you can begin customizing your server.
Customizing Your Server the Way You Want It
When customizing your server, there are a few basic customization options that you have available. These include creating different text and voice channels, setting up roles, as well as customizing general behaviors and settings such as permissions and notification settings. For example, you may want to have separate channels for different topics of discussion, or roles that allow certain people to have more control over their server. The great thing is that with Discord, you have nearly limitless options in terms of customizing your server.
Benefits of Creating Your Own Discord Server
Creating a custom Discord server may seem like a daunting task, but there are many incredible benefits that come with it. Not only does a Discord server place little to no strain on your device, but setting up your own custom environment also takes up minimal storage space. You also have the opportunity to ensure that your server is managed in a way that best suits your needs or the needs of your group. You also have greater control over who interacts in the group, ensuring that those who post in your server will stay true to your community's ideals and expectations.
FAQ
Q: Is it easy to create a custom Discord server?
A: Yes, it is incredibly easy to create a custom server on Discord. All you need to do is open the app, click on the "Create a Server" button, and fill out the necessary information. You can also customize the server easily to fit your content, community size, and availability.
Q: What are the advantages of creating a custom Discord server?
A: The advantages of creating a custom server on Discord include little to no strain on your device, minimal storage space taken up, greater control of your server, and the ability to create a community that fits your needs and expectations.
If you are searching about Create an amazing and clean discord server by Thrallix | Fiverr you've came to the right page. We have 5 Images about Create an amazing and clean discord server by Thrallix | Fiverr like Eshalkhan782: I will make roleplay logo design for fivem and discord and also Eshalkhan782: I will make roleplay logo design for fivem and discord. Here it is: